When the coronavirus outbreak started to be a serious matter in mid-January, I began documenting what daily life looked like in Dongguan. I made videos explaining the situation and uploaded them to Instagram and Facebook.
Several national media companies in Israel (my home country) saw the videos and contacted me. They wanted to show the life of an Israeli in China during this unusual situation.
February 4: The biggest Israeli TV news company, Channel 12 News, contacted me to write an article for their website (published February 7) and send a few short videos of me explaining the situation (daily life) in Hebrew. (Watch the videos below.)
Some online comments suggested the Chinese government told me what to say because I spoke positively about the way they took care of the situation. This is not true, but I was not surprised. People, anywhere in the world, have many misconceptions about China. I lived here long enough to know they are mostly wrong. Every country has a small percent of bad, and China is no different. I choose to focus on the good.
February 8: The most read Israeli daily newspaper, Israel Hayom (Israel Today), reached out and interviewed me via WhatsApp. They wanted to know what it was like during the epidemic. I kept in touch with them and I was featured twice in their printed and online editions (published February 9 and February 14).
February 16: The National Army Radio (GLZ) asked me to record a status report of the current situation and broadcasted it on their morning show (February 16).
February 16: Channel 13 contacted me for a TV interview via skype. They asked me to walk outside and try to buy a mask at a pharmacy, which I did with no luck. Then I showed them around. They saw groceries and produce were plentiful, and the situation may not be as bad as they imagined. It was broadcasted on the evening news on February 17.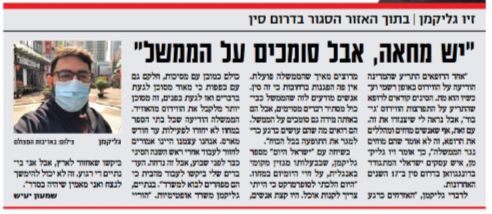 This media attention got the attention of people I have not spoken to for many years. They reached out, asking if I was alright and if I was afraid, urging me to go back to Israel. I told them to not worry so much. I am in China, my second home.
For more coronavirus related content, click HERE.